Tasherana Sailing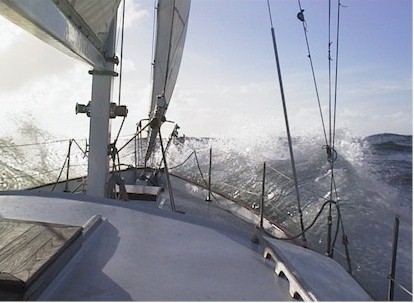 Tasherana is a 44' Hardin ketch, still berthed in San Francisco Bay.

Welcome to my place. This is a collection of pictures from my life - the boat where I (used to) live, sailing San Francisco Bay and beyond, other events and sights, and my bellybutton collection. Enjoy!
Bellybuttons
last updated 7/2/2000

What's New
(Numbers below refer to pictures in The Last Nine Hundred)
Sunday, 4/20/2003
Sold Tasherana in January. Nice flight-attendant couple. They should have time to fix her up to her former beauty.
I'm buying a house! It's in Alameda, California, which is nice island in San Francisco Bay. Expensive, but nice.
I'm spending most of my free time with my photography these days. Pretty happy with the result. See some in my Portfolio.
Going to revamp the website soon. Tired of this old FrontPage look.
Friday, 3/29/2002
Tasherana is for sale! Getting the web pages together. Check them out here.
1/18/2002:
The Last Nine Hundred is restored! Finally got Pac Bell to install the DSL in my new place on land in Alameda
Monday, 7/16/2001
It's my birthday, so I'm taking the day off from work, catching up on some things, and looking back on the year.. Been a pretty good year, actually. Just got back from a sail down the coast with some friends of mine on their Catalina 36. Starting to put up the pics on my new Channel Islands 2001 page. Enjoy!
Thursday, 9/14/00 0746
Goooooood Mooooooorrrniiiing Eeeevryboooodyyyy! I just got back from the best vacation I've ever had. Actually, I got back Sunday 9/10, and I'm still on vacation. Tonight I'm off to Oregon for a few days, This really doesn't suck!
Thursday 8/31 around midnight I got on a plane for a Windjammer Barefoot Cruise in the southeastern Caribbean. It was a singles cruise, set up by Ed Rudd of travelpackage,com. There were about 60 of us on a 180 foot sailboat, and boy was it great!
Read and see more at my new Windjammer page
Monday, 7/3/00 0852
Okay, we're going to try a guest book. Go check it out!
Sunday, 7/2/00 1734
Lots of new pics! Even updated the bellybuttons (about time) but this keyboard sucks so I'll say more later. Happy Fourth!
Tuesday, 6/13/00 0828
Looks like I'm getting a little behind! Went sailing this weekend, took a lot of pictures of a smart cute redhead named Melody, and they're not up yet. Neither are the latest Minnow pictures. also, my keyboard's giving out. I'll get things organized soon. Gotta go to work now. more later!
Friday, 6/9/00 0805
The Paramount Theatre is one of the most beautiful places I've ever been in. It's a gorgeous, fully restored Art Deco theatre built around 1930. It's right close by, in downtown Oakland, and they have tours twice a month. I went, and took a couple (all right, 124) pictures of the place. It seats about 3000, and has cool lights, great house, organ - well, you check it out. 7398-7204
I'm starting to organize things a little differently, so that I can get more pictures up. The Last Nine Hundred just isn't enough! I'm going to start doing sections in addition to TL900. First, a Paramount section in the Gallery, then more...
Thursday, 6/1/00 1820
Time to go home from work, but here's the latest:
I have to clean this site up some. I've got about 200MB here and they just raised the rates. Don't worry, I'll leave the bellybuttons, but I'll be getting rid of about 100MB of other stuff. Too bad!
Still taking pictures. On Memorial Day, I stopped by the Minnow after their barbeque and they had a bunch of kids doing karaoke on stage. Youngest was four. The had a great time. 7201-7167. Took some pics at the vista point on I-80 coming into the Bay Area 7159-7141. Jason and Tobreth have a fat-tailed gecko lizard. Pretty cool. 7139-7122. Jason graduated Sac State. Pics of him, Elise, friends, relatives, etc. 7121-7062. Great sunset pics 7031-7004.
The Ivy Room! Albany, off Solano. Saw Petrol and, um, I forgot. Cool club. Bluesy club next door "Club Muse" gotta check them out next time. 7000-6942.
Also: walking a cat, neighbors, the Carquinez bridge, a mushroom, a Levi's ad, driving over the Altamont, Quinn's Sea Chanties again, a Harley, Elise putting on makeup,
Saturday, 5/20/00 1110
Photographed the usual collection of cool boats, cars, puppies, cats, flowers, sunsets, etc., but his week's theme seems to be "Drinking Happy People".
There was a punk band at the Minnow and LOTS of dancing happy people last night - 6941-6903. Sarah #2 was on a first date at Heinhold's First and Last Chance, and was looking for a way out. Andrew the bartender scared us - 6901-6898, Sarah #1 turned 25 at UNO's, and much fun was had by all - 6897-6891. On Thursday, Moe's was invaded by Dutch flight attendants from Martin Air who played bad, entertaining pool. And very nice attendants they were, too. Even Sebastian. He recommends partying in the Dominican Republic. Tuesday, Gail called me up to come to John Patrick's where she bartends and she and her friend Cathy hammed it up - 6854-6836.
Am I taking too many pictures? I can never tell.
Monday, 5/15/00 0811
Rain! I'm late for work again, and it's raining. Had a great weekend, though. Went with Sam and company on his 60' sloop Final Approach to go see the KFOG KaBoom fireworks show Saturday night. Really great fireworks show, and I got lots of shots of other boats on the way there. 6604-6712. Went to The Minnow afterwards, and got shots of Red Archibald (great blues band) and several tattoos. 6783-6717. Met Nila's boyfriend Brian for the first time. Seems pretty cool. Got more pictures of the Nila-monster too. 6810-6784 Picked Sam's son Lane up at his mom's on Sunday, where they have more kids, two chickens, a pot-bellied pig, and a Golden Retriever. 6821-6812
The wedding last weekend went well, in spite of the rain. It stopped just in time for the ceremony. Everybody looked good, little Arthur threw flower petals really well, there was great food, and I lost my umbrella. 6578-6477 Got some cool sunsets, a flower, and a green bug later. 6595-6579
Before that, last Saturday, I drove up to Vallejo to meet friends who were in the Vallejo Race - a really huge Regatta. Got pics of the club before and after the party, some boats and a really good 5-year-old bongo player. 6476-6461
And there's more! Friday night befoer the Vallejo Race, I hung out at Uno's (6426-6417) and the Minnow, where Yahoo Barbecue played. Rockin'! Got pics of Yahoo, Jennifer Thatcher, Stephanie, and more, including one new bellybutton. 6460-6427
And still more before that: Alviso and the South Bay Yacht Club, a bug, driving shots, different motorcycles, and my new alternator. Why? Because I can. 6416-6388
Okay, looks like the sun is coming out. Gotta go!
Sunday, 5/7/00 0935
I'm going to a wedding in a few minutes. My friends Roxie and Jamie are getting married. Outside. In the rain. Hope they have umbrellas. Pics of them will be up soon, no doubt, along with the rest of the week.
In the meantime, let me describe the latest additions to The Last Nine Hundred.
Cirque Du Soleil is great! Cisco System bought out ten entire shows, and I went on Wednesday as a friend of the (Sam's) family. Took a few shots before they made me stop. Blurry and dark, but they're at 6387-6371.
Shellie got a new Honda Passport, so I got shots of her, and her new car, and more of the "family" and of Chris trying to run over us. There's also a DeLorean, piles of snails, my boat engine, my new alternator, driving shots, a nice cycle, and the Bay Bridge at 6370-6341.
Went sailing with Sam and crew last Sunday on La Adriana, the Perry 47 that we sailed to Hawaii in 98 (for sale, BTW). Had a great sail on the bay, and the pics are at 6340-6239.
Then we've got some Muslims (I think) eating breakfast at Albertson's, apartment shopping with my goddaughter Nila, and a wheat field. 6237-6221.
All the way back last Friday 4/28, I hung out with Tim, Alex, Lisa, Sara, Lisa, and Sonya at UNO's in Jack London. A very cool crew! Ask for a "Crash Test Dummy" by Alex. And a helmet. 6220-6174.
And farther back, we have Sam's birthday party at Quinn's Lighthouse, where they have Sea Chanties and lots of free peanuts for the eating. And the throwing. Don't miss Blue Dudley. 6173-6161.
Then there's pics of Sam in his new leather jacket, and Lisa, and Dudley and Chris and Elise. Guess who gave hime the jacket? Wrong! Try again! 6160-6154
Before that, there's the boats we looked at for Tobreth and Jason to live on, a couple of boat show shots, and more driving shots, including the Bay Bridge from the new multi-million dollar Cypress Freeway. Also the bow of Tai Won On - a beautiful old 30 ton teak Chinese junk, 6153-6131
4/24/00 1410
Hah! I got today off, courtesy of strange governmental secular non-religious observation of Easter, so I updated The Last Nine Hundred with many pictures. Here's some of the highlights (in reverse order, as usual):
Last weekend I left work mid-Friday and headed out for a road trip (pics 6115 through 5788) I wanted to go to Lassen Volcanic National Park. I got there, eventually, and took pictures of the part that wasn't snowed in. Very gorgeous. On the way there, I went through the California Gold Country on highway 49, one of my favorite roads of all time, and saw Sonora, Calaveras County, Knight's Ferry, and lots of scenery and Americana. BTW the women in Sonora really know how to party! Thanks for the shots. :)
Tamara had a going-away party at work, so you can see some of the people I work with at 5783-5772.
I took some pics on open mic night at The Starry Plough, a Celtic/eclectic pub in Berkeley on Tuesday 4/18/00. 5771-5743.
Racy stuff: DO NOT LOOK AT THESE IF YOU'RE UNDER AGE or CENSORSHIP-FRIENDLY:
Sunday April 16 was the last day of Erotica 2000 in San Francisco. I missed all of the lectures, but I had time to take lots of pictures, and meet some really great artists, like Steve Diet Goedde, Ed Fox, Eric Knoll, and Jennifer Janesko, who I thought was a model at first! Took lots of shots - especially the Robert Bane Editions gallery in the middle of the show, which featured lots of originals (!) by Olivia and Sorayama. If you're interested, I put some more good links from the show on this page. Pics 5729-5634.
There's menage-a-trois of snail cannibalism at 5589. (not x rated)
A DeLorean at 5565-5562.
Andy and Marianne got married on McNear's Beach on April 8. I sailed there, spent the night, and sailed back. Thanks to Lane and Chris for being my crew. 5560-5456.
A scary tape-head at Heinhold's First and Last Chance, Oakland. 5455.
Tallships and sunset in the Oakland Estuary 5436-5416.
Daniel Castro's CD Release party 1 April 2000
Sunset on the beach in Alameda 5296-5258
And the ever-popular Much, Much, More!
2/28/00 1855
Finally! My home computer is just barely back up. . Practically had to rebuild the whole damn thing. Didn't lose much data, but had to reinstall ALL software from the ground up. Not done yet, but I got the web server running again, so you can access The Last Nine Hundred once again. Go there. You know you want to.
Tech: Now I've got a Promise RAID card and two large Maxtor hard drives that are mirroring each other, so if one goes, nothing is lost. Also put the drives in removable bays for ease of swapping, backups, etc.
I've got a couple hundred pictures waiting to be posted on TLNH. They'll be up in a day or so. In the meantime, enjoy your old favorites from last week.
Also, I'll put these site links back together RSN too! Jeez, what a mess! Thanks for your patience
2/22/2000 0940
Sucks to be me. Last night I added a new hard disk to my home PC to hold all these pictures I've been taking, and my boot drive crapped out! Backup? What's that? Fortunately, the disk isn't completely trashed, so I should be able to bring things back to life in a few days. In the meantime, The Last Nine Hundred will be inaccessible.
Guess I should hurry up and put the site links here back together. In the meantime, try these subdirectories:
e.g. http://www.tasherana.com/adriana
adriana
Amy_Hilary
bellybutton
coolpix
cybercruise
dentist
lasers_picnic
lost_isle (rated R)
MHAE
minnow
misc
pac_cup
Pincoya
pre_pac_cup
ren_faire_97
Tahoe
tasherana
vampire
XBoy

2/9/2000 6 PM
Hmph. The site broke, and I had to reinststall part of it. The navigation buttons and backgrounds and so on are still not back. Just go to The Last Nine Hundred until I get it fixed...
12/25/1999 11:26 PM
Finally! New bellybuttons. I know, I know - it's been a while, hasn't it? Anyway, check them out, and thanks to all you new contributors!
Merry Christmas! The Last Nine Hundred now contains some Xmas shots with the LaVanaways, both at Dudley and Teresa's house and aboard Final Approach (Final Adventure - whatever), Tobreth's graduation from Sac State, and shots from F. A. during the Oakland Estuary Christmas Boat Parade. There's also shots from the partying we did after my Xmas party at Comsys.
Farther back, there's Thanksgiving in Oregon with Eric, Holley, Greg, Myra, and all their offspring, Japanese Taiko drummers, along with the usual random shots of birds, sunsets, cars, people (a lot of attractive young women - why is that?), sailing, boats (lots of F.A.), boat parts, get-togethers, people, kids, scenery, and whatever caught my eye. Enjoy!
8/7/99 02:08AM
Okay, okay - I know I haven't been keeping things up to date. I just now put the latest 330 pictures in The Last Nine Hundred, and there's a bunch of interesting stuff there. I just got my new Nikon CoolPix 950, and it's great! Now I don't have to put up with the 900, which was focusing only about half the time. Sent it in for service. The new pictures are pretty big, so be warned. :)
In these very latest 900, there's pictures of Daniel Castro, The Minnow, Eric Martin, Big Sky Mind, Erin Evans' Grand Opening Show (5 bands!), Annie Sprinkle's benefit show (adults only!), The Alameda All Stars, my godkids, Jim Clark's 160' sailboat, a great white heron, the Monterey Bay Aquarium, Ecuadorian and Columbian tallships, Point San Luis Ken's birthday party, the NIF target chamber, Great America, La Adriana, the Fourth of July, and more. Check it out!
6/24/99
Yes! Got DSL from Pac Bell this morning! Easy install, even faster than my cable modem, and about the same cost ($49/mo). Good bye, @Home!
6/19/99
Went to the benefit for Annie Sprinkle at the Cowell Theatre, Fort Mason. Just took a few shots, which aren't up yet... and my camera crapped out on me yet again, losing me a very nice bellybutton!
6/12/99
Yvonne at TCI in Alameda was really nice. Best cable service rep I've ever dealt with. She got the cable service guys to come out days before my @Home service appointment, and they fixed the problem (their "tap" signal attenuator thing in the cable before my modem was busted)
6/10/99 (Tuesday)
@Home sucks! I've been using the their cable modem service since January. It's very fast, but the service has gone out three times now. It just went out again yesterday (6/9) and it may still be out. Locally, @Home is provided by TCI, and their customer service is from hell. Nice people, but there's endless phone waits, and their service database is taken down once a week (Tuesday night, coincidentally.) Each time it's gone out, my service has been out for days while they tried to get their act together. Took two separate installation visits from different installers to get it installed in the first place. I finally had to finish it myself.
I'm going to bail on the cable modem and get DSL instead from Pac Bell. It's got to be better.
4/30/99
Spruce, spruce, spruce.
4/23/99
Trying to spruce this sprawling web site up a bit. In the meantime, posted pictures of the Jack London Square Sailboat Show, my niece's visit from Kansas City, some folks from work, and of course there are more Minnow pics, all in The Last Nine Hundred as usual.
4/11/99
Lots more Minnow pics in The Last Nine Hundred. Eric Martin played on Friday 4/9, and it was a great show! Even his 12-year-old nephew rocks. Saturday's show was great, too, but I forgot the band's name. Alzheimer's, you know. Good singer. Did Bruce Springstein, Billy Joel, the Animals, Jimmi Hendrix, and more. The club sound system really sounds great now - a tribute to a lot of effort from Bobby David and others, including yours truly.
Also, Darwin turned 50! And looks damn good doing it. Arrgh, you old sailor! Pics in the usual unorganized place.
4/6/99
Whew! I'm finally back on line. What a relief. My @Home connection has been down since March 24, and they just fixed it this weekend. I hate being off-line.
This meant that I couldn't update the The Last Nine Hundred for a while. Actually, you couldn't even get to them while my connection was down. I'll get them up-to-date soon, I promise.. Next up: Darwin's Birthday Party.
3/14/99
Sailing with Sam on La Adriana, with about 15 fine people from Cisco and Alameda. Pictures are in The Last Nine Hundred.
3/5-6-7/99
Cybercruise to Clipper Cove, at Treasure Island. Pictures in The Last Nine Hundred.
1/29/99
I've just started something new. I just got the "@home" cable modem installed on Tasherana, and I'm running a little web server there. When it's turned on, you can get at "The Last Nine Hundred" pictures I've taken, directly from my home computer. This is the section I put pictures in that I'm too lazy to categorize right away (that's why there's 900 of 'em). There's lots of Minnow pics there, for instance.
12/15/98
On November 13, Exploding Boy, a friend from SFNet, died of a heroin overdose. I'll miss him.
RIP, XBoy. We won't forget you.
On December 13, we held a memorial and a wake at Noc Noc in the Haight, San Francisco, XBoy's old stomping ground. It was a great get-together. Lots of stories and old friends. I took pictures of the people, and Bud Fairy has some photos of Xboy from back in the day.
11/16/98
Went on the Tahoe Trip with Jennifer, Bob, Edith, Porter, Ivy, and Mark Nov 13. This is the first time I've gone on this annual event, and it was great! Got lots of scenery pictures, including some great sunset shots Friday, Saturday, and Sunday. The ones from Caples Lake on Sunday driving back are awesome.
11/08/98
Time for a new set of pictures! There's a club called The Minnow here in Alameda. Great place, has dinner, drinks, live music. Especially live music. Really good live music. I take pictures of the bands when I'm there. Find them here.
10/27/98
I have updated the belly button pages with 20 new ones collected since February, including some from Hawaii.
9/20/98
Went to Lost Isle, in the Sacramento Delta, for their 50th anniversary party. And what a party! Caution: includes T&A, nudity, and water-based paint.
8/28/98
Went to the Lasers picnic at LLNL, where I work. Pretty hot out in the Livermore desert, but we know how to have fun anyway. Here's the shots.
8/25/98
New camera! Woo hoo! Got a Nikon coolpix 900 on 8/15, shot 500 pics on it already. Here are some of the first ones.
7/22/98
Just got back from Hawaii yesterday. Wow! Great trip. For those not in the know, I sailed on my friend Sam's boat La Adriana in the Pacific Cup race to Hawaii. Here's the scoop.


This web site is hosted by the fabulous folks at: